The different types of mirror ceilings possible
The use of a standard white glass mirror on the ceiling is impossible without visible safety fixing.
The control office will systematically refuse the use of a suspended glass mirror glued to an MDF or wooden chipboard panel for safety reasons.
Like Mirror has therefore developed an innovative product: A hot-Stretch Mirror ceiling. To imagine it, you have to imagine a large drum or a large masterpiece.
The manufacture of our mirror panels is done by hand-stretching an aluminized polyester film of a few tens of microns on a rigid aluminum profile frame.
This panel is then passed through a huge oven whose heat will allow the film to stretch by heat shrinking. It is this process that gives stability to the mirror ceiling product and gives it great lightness, the possibility of large dimensions and remarkable optical quality.
We manufacture our mirror effect ceilings in France and we deliver our mirrored false ceilings ready to install.
It is not a PVC film canopy or a PVC ceiling with harpoons.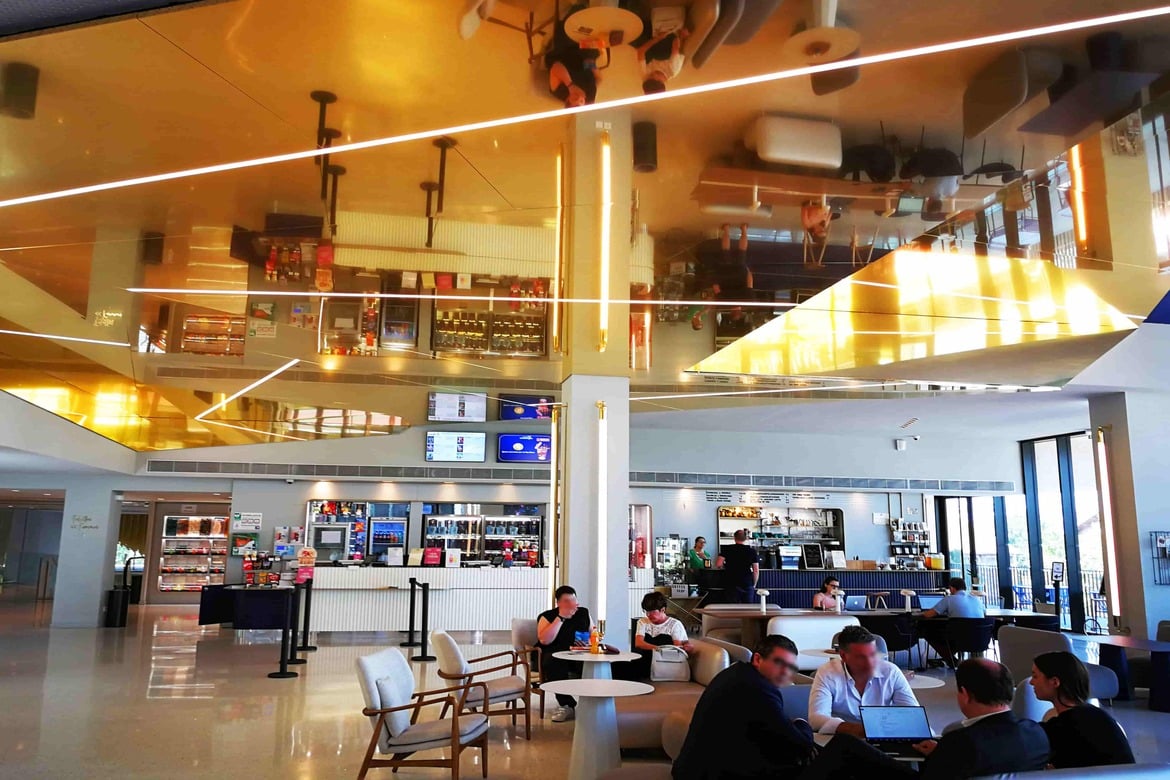 What mirror shapes can be considered for a Stretch Mirror ceiling?
All shapes are possible: round, square, rectangular, oval mirror, with angles or triangular. It is even possible to consider beveled mirror finishes at 45 degrees on the edges of the mirror tiles.
Depending on the shapes and color ranges, you can choose Stretch Mirror ceilings up to 2.80m wide by 12m long without welding. We alert you to the difficulties and transport prices for Stretch Mirror panels for widths greater than 2.4m.
You will find more details on the sizes and shapes of suspended mirror ceilings by downloading our technical instructions. We do not offer frames in rattan, bamboo, driftwood, pine, walnut or melamine, you will have to go through a framer who will adapt to our product.
The perfect finish of the edges of our frames is systematically mirror silver. Several ranges of colors and finishes are also available, from black or brass mirror to gold mirror with different types of aged antique or baroque mirrors. It is even possible to make magnifying and shrinking mirrors using the effects of deformations and curvature of the mirror cloth. Our mirror tiles do not have adhesives and are not suitable for small mirrors.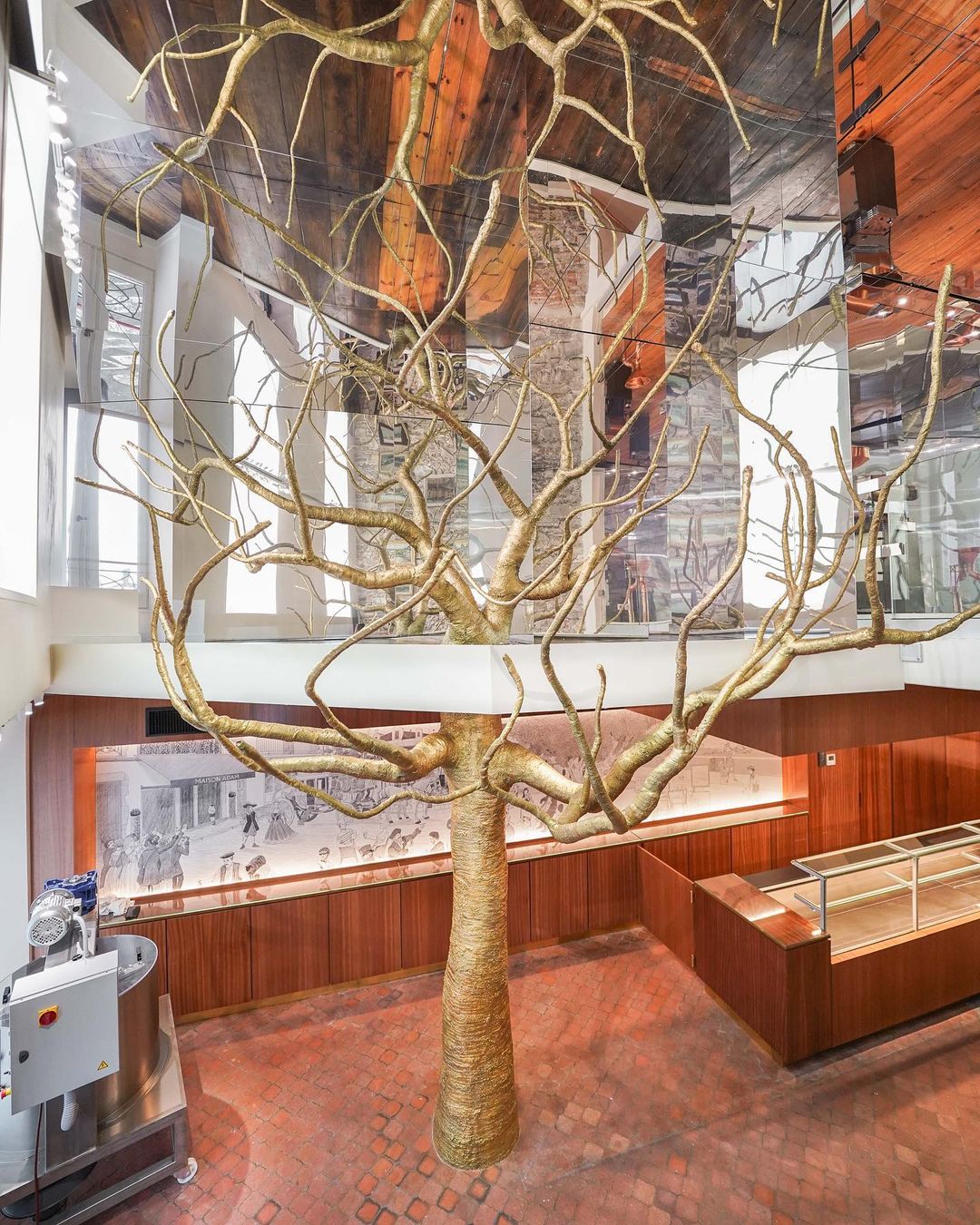 How to fix a Stretch Mirror to the ceiling?
The installation of our classic mirror canvas suspended ceiling is relatively easy since our 27mm thick panels are light (about 2kg/m2).
Our silver mirror suspended ceiling tiles are never glued directly on plaster board coated or on concrete. We use the lightness properties of our Stretch Mirror effect panel as well as the possible mechanical properties of our aluminum profile frames to hang it with ease. The technique for installing suspended mirror ceilings can be done in 3 different ways:
1/ With magnets attached to the back of our frames. This option is the most common because it allows easy access to thefull thanks to removable ceiling tiles.
2/ Suspended from adjustable slings using pitons and inserts (no screws) at the back of our frames. Several aesthetic options are possible for the steel end caps, the color of the cables and the type of hangers.
3/ Suspended from slings directly from ceiling tile assembly clamps or with chair brackets. This is an option more widely used in events and which allows you to go very quickly.
For more details on the installation of our mirror effect stretch ceilings, we invite you to download our assembly instructions and maintenance. You can also view our mirror ceiling mounting tutorial videos on our YouTube channel.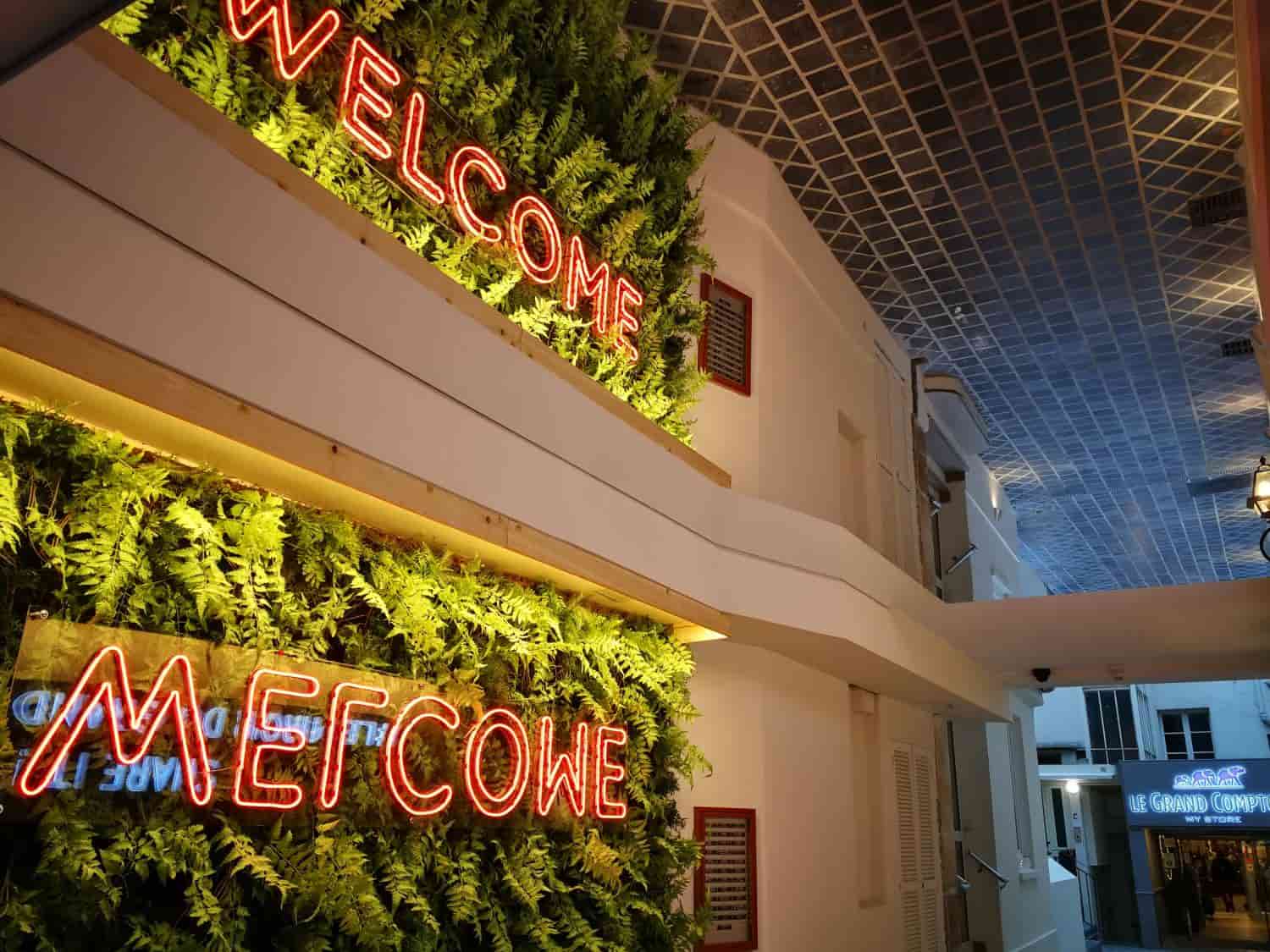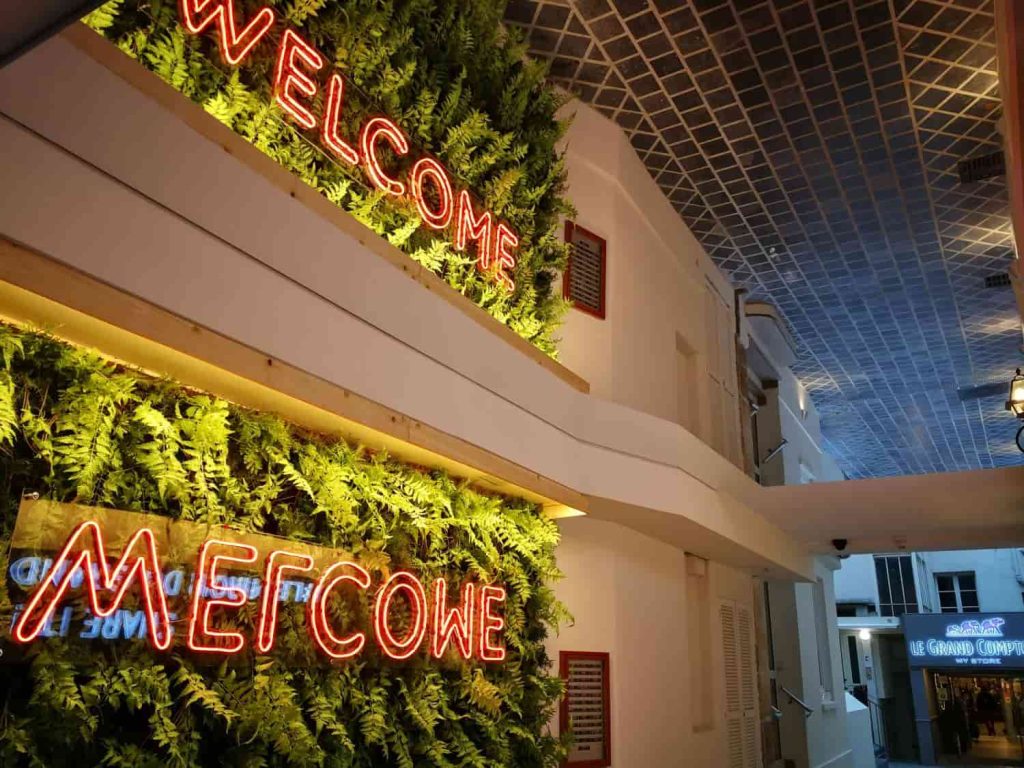 How to design the Stretch Mirror ceiling in interior decoration?
The first idea of ​​​​the architects is to use a large designer mirror ceiling to expand the space upwards and increase the brightness. This idea is paradoxically more effective for large mirror ceilings that are located relatively high.
Indeed, a low ceiling in Stretch Mirror canvas will not have the desired effect, it will create a crushing effect because the reflected image of ourselves will be close and in motion, this sensation will not be pleasant for passers-by. .
We recommend a minimum ceiling height of 2.3m to make the decorative mirror ceiling inaccessible to users and to avoid weakening it.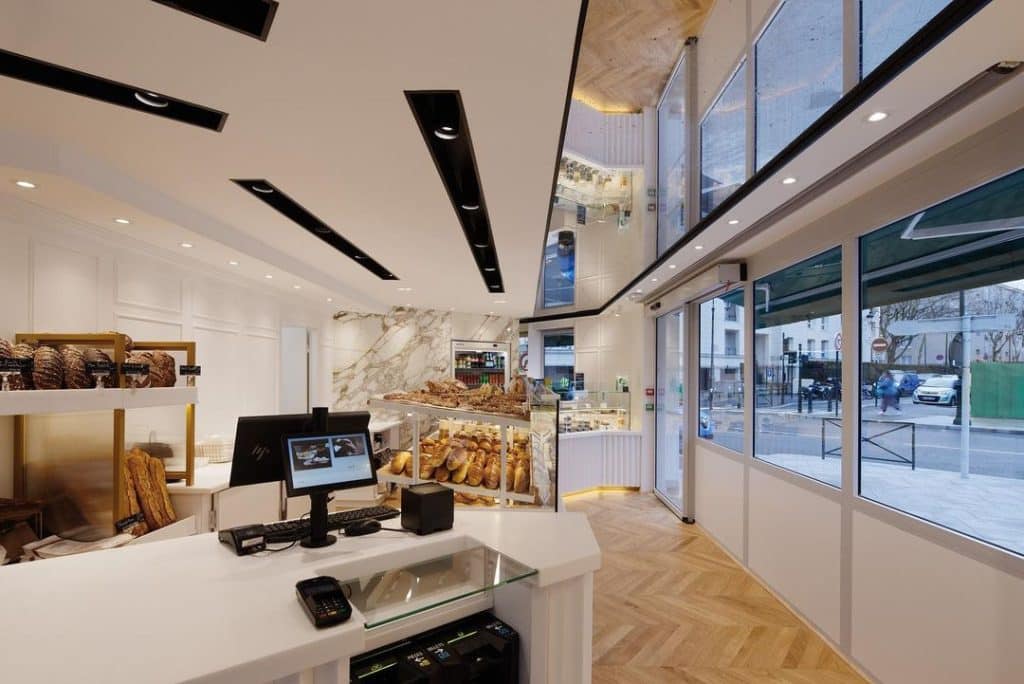 What effects can be obtained with a Stretch Mirror ceiling in interior design?
Other effects for mirror effect stretch ceilings are possible such as the cathedral effect, the edge effect, the duplex effect, the water mirror effect and many more.
The design of the modern mirror ceiling will be different depending on the final project: Restaurant, loft, museum, scenography, hotel or fashion show.
To discover all the possible design effects for decorative mirror ceilings, you can ask us for our white paper entitled: 15 effects to design the mirror ceiling.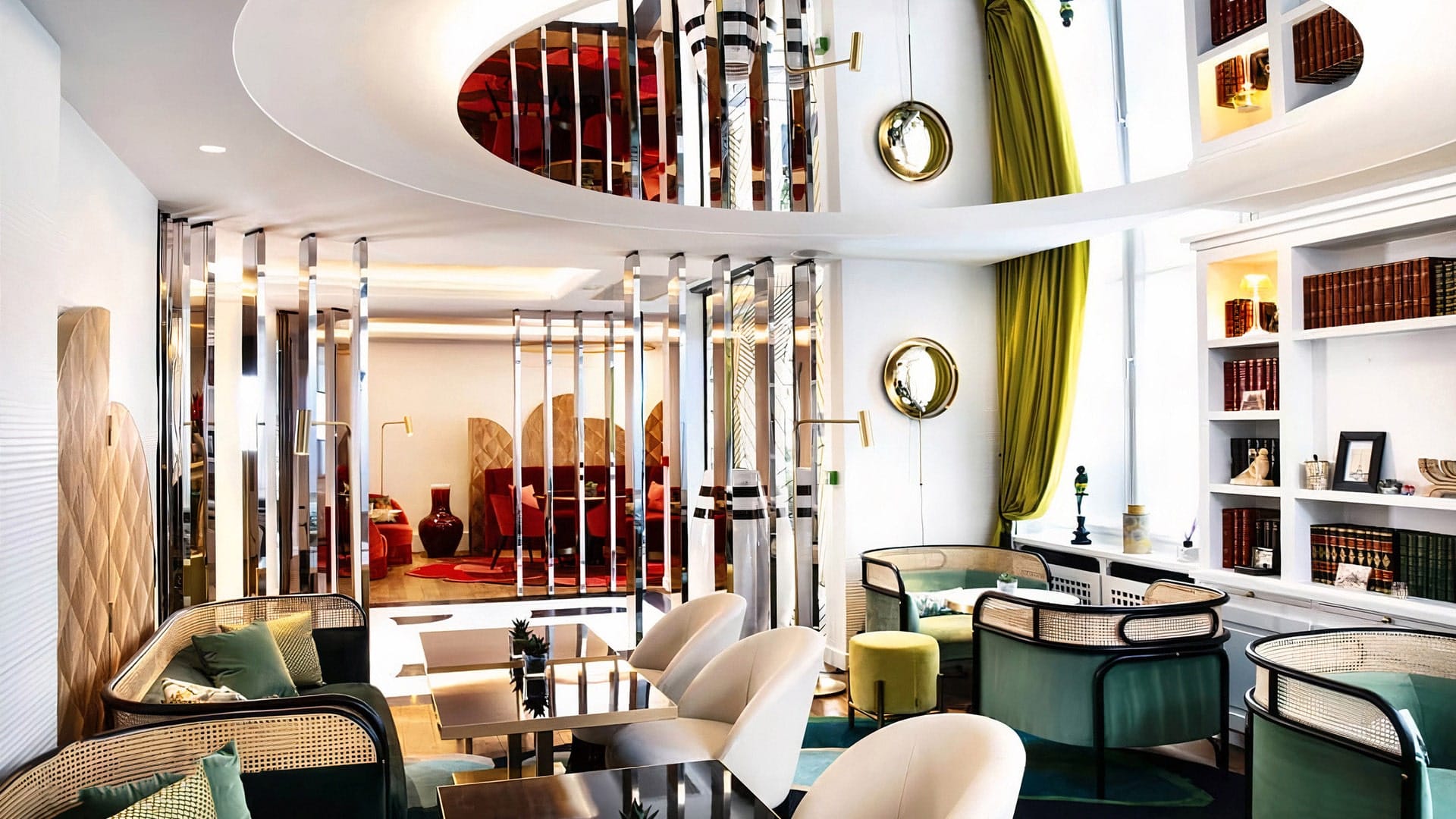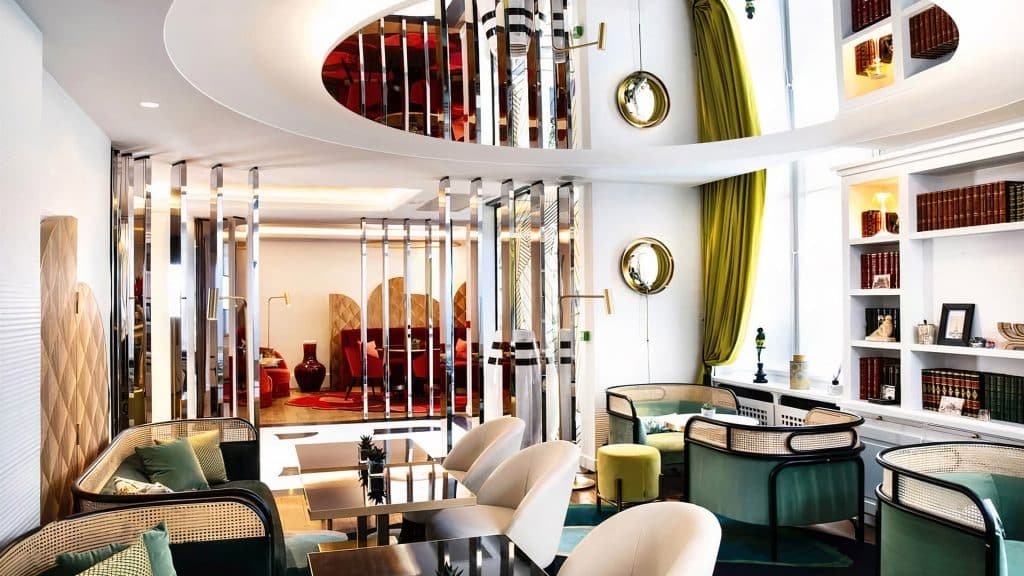 How to integrate luminous recessed spotlights in a Like Mirror Stretch Mirror suspended ceiling?
All kinds of integration are possible: Square or round LED spotlights, LED strips, loudspeakers, sprinklers, lights, pendant lights or signage. You just have to make sure you are at least 40 mm from the edge of the mirror stretch ceiling. However, we prefer pendant lights to recessed spotlights for aesthetic reasons.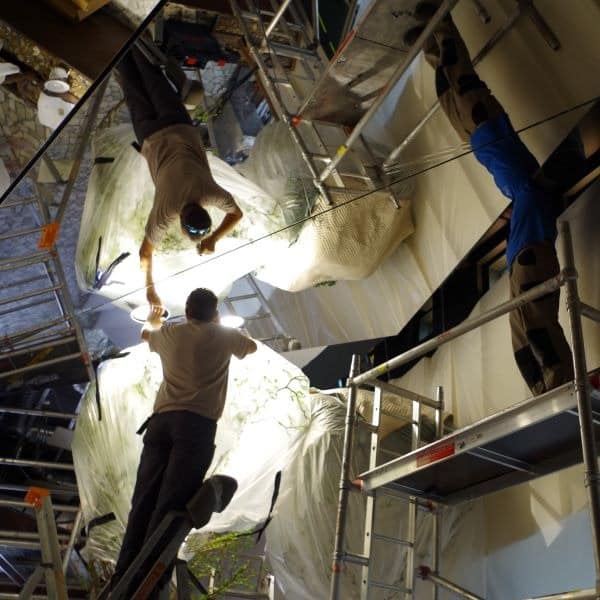 Can a Stretch Mirror ceiling be installed in a humid environment such as a spa or swimming pool?
Regarding the installation of our large mirrors in swimming pools, spas, saunas (wet rooms), this is possible provided there is no integration, and specifying the wet environment option. We use a protective face of the reflective aluminum layer.
It is also possible to improve the sound insulation of a room (especially for swimming pools) with our mirror stretch false ceiling tiles. Our product being a Stretch Mirror fabric, it is enough to combine it with a sound insulation such as rock wool or glass wool to improve the sound absorption coefficient up to 0.7.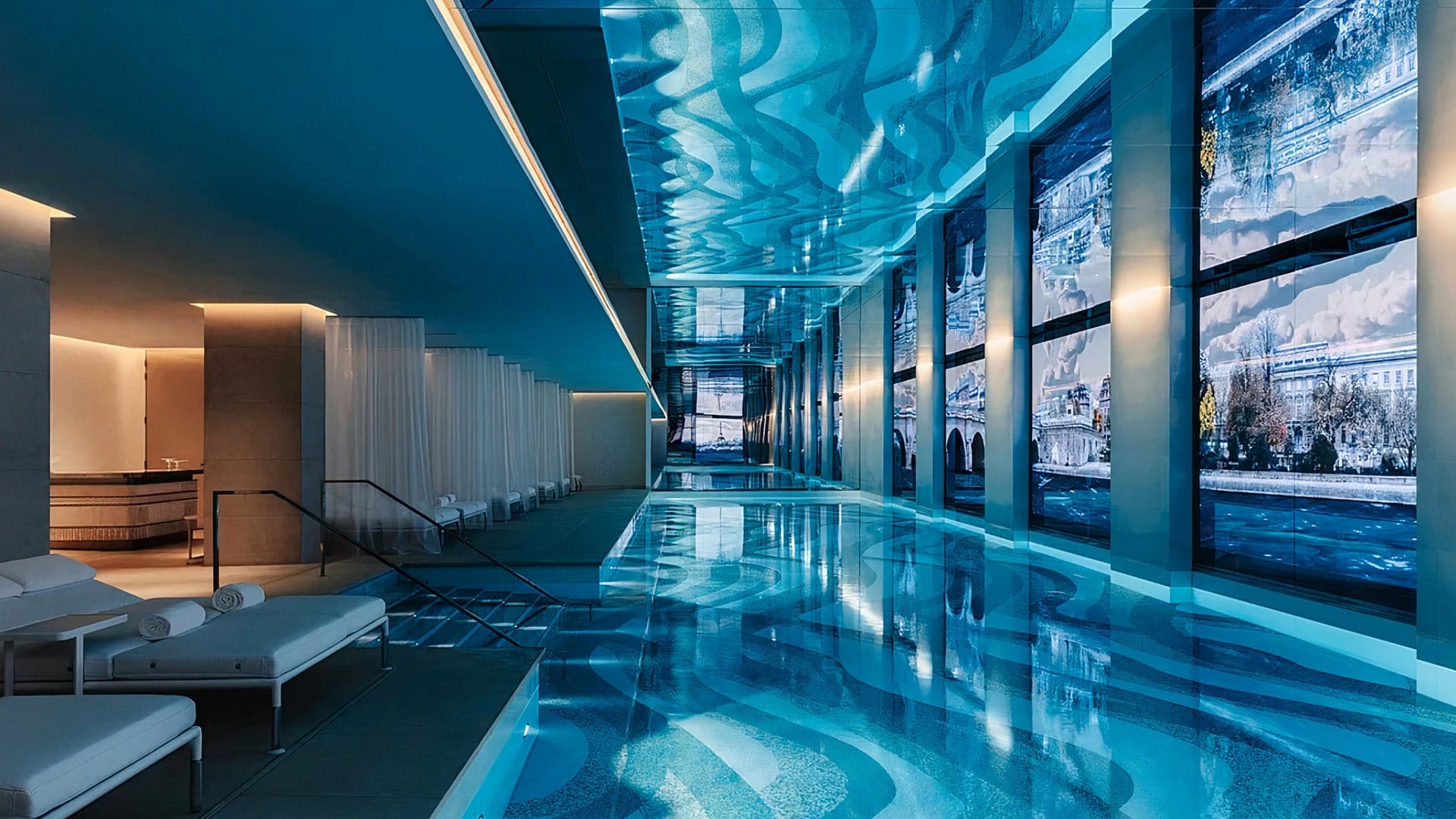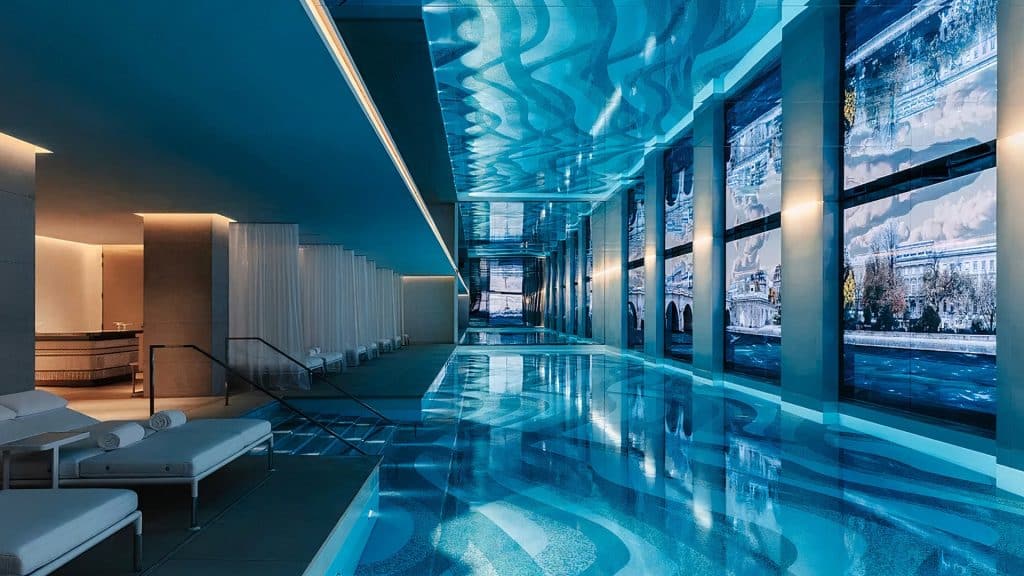 Are Like Mirror large format stretch ceilings ecological?
Like Mirror is very keen to offer PVC-free and recyclable products as much as possible. We have therefore carried out a life cycle analysis of our product (from the extraction of raw materials to the destruction of the product through all the stages of manufacture) and we are proud to announce that our decorative mirror ceilings emit 2 times less CO2 than a classic glass mirror per square meter of mirror manufactured.
In addition, they have a VOC A+ classification (best classification on emissions of volatile organic compounds).
We are always attentive to the solutions of our customers and our suppliers to improve our manufacturing processes.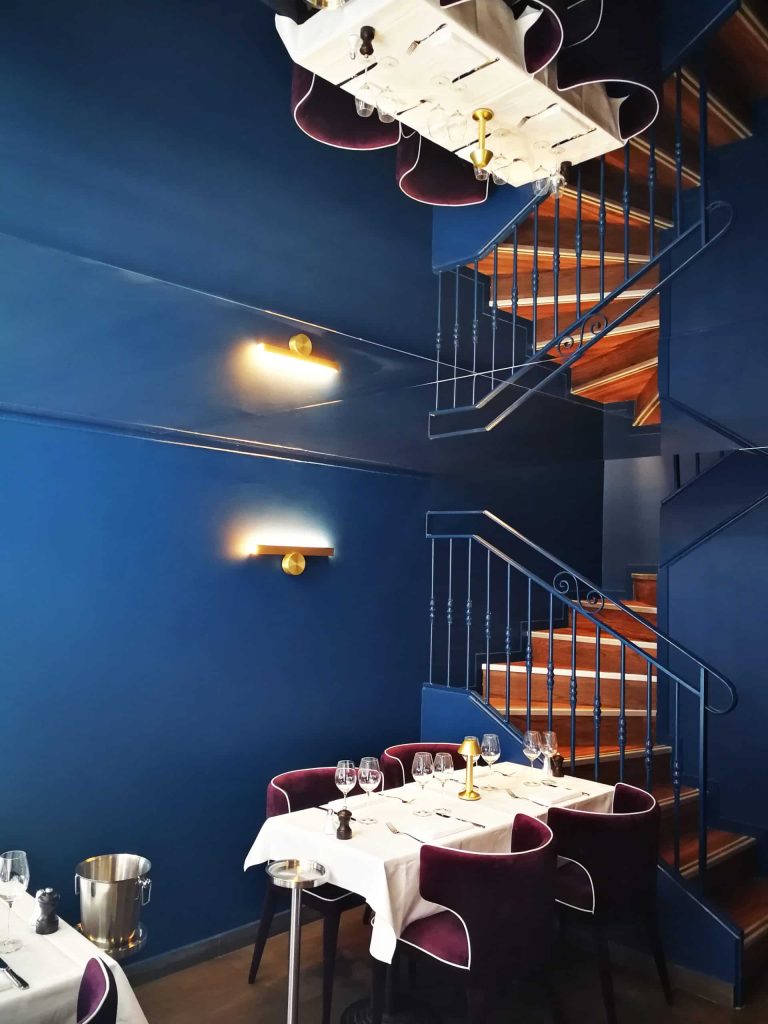 How to estimate the price of a Stretch Mirror ceiling?
Like Mirror Mirolege offers the supply and installation of our stretch ceilings with mirror effect at preferential rates. We have approved installers throughout France. Find out more on our mirror stretch ceiling installation page. (link to the Stretch Mirror ceiling installation page)
 The price of a mirror ceiling depends on several factors:
1/ How high is the mirror ceiling? Do you need scaffolding?
2/ What is the address of the project: Paris, London, New-York or in Western Australia?
3/ The shape of the mirror: Is the Stretch Mirror panel curved, oval or round? Is the mirror beveled at 45 degrees?
4/ Does the flexible mirror ceiling have integrations such as lighting, chandeliers, sprinklers, suspensions or cables?
5/ Does the plenum require a load-bearing substructure (Placoplatre rail frame or metal frame)?
6/ Does the panel have printing options? Effects of aged, old or lacquered mirrors? Vintage or adhesive mirrors? Is it totally personalized?
To have a precise budget envelope and an idea of ​​the final price for the supply and installation of mirror stretch fabric ceilings, we invite you to contact us to receive a request for a quick supply and installation quote.
Whether it is for neat work on decorative mirrored ceilings, ceiling renovations or simply to camouflage the cracks of an old ceiling, the professionals at Like Mirror will always have the ideal solution from our wide range.
Architects and decorators can also make an appointment in our showroom at 25 avenue de l'Opéra in Paris to discover the different interior fittings thanks to our panels installed on the ceiling.