Distressed mirror ceiling : the manufacturing techniques used by Like Mirror
If distressed mirror ceiling have been known since antiquity, their manufacturing methods have evolved over time. Until the Middle Ages, they were generally made of a simple plate of metal alloy which tended to oxidize. With the appearance of glass mirrors in the Renaissance, the techniques were perfected, but it was not until 1835 and the invention of the silver glass mirror that the mirror became more democratic.
On old mirrors consisting of a glass plate lined with a metal sheet on the back, aging produces an alteration of the reflective metal layer, originally mercury-based. To recreate the effects of wear observed on old mirrors, some current manufacturers of distressed mirrors have therefore simply chosen to apply an abrasive chemical treatment to the metal film.
Contrary to these chemical processes, Like Mirror manufactures its distressed mirrors by digitally printing on its high definition mirror film various patterns reproducing the forms of wear of the mirrors (drips, pitting, colors, marbling, gradients). The printed film is then hot-stretch on an aluminum frame to form a custom-made mirror, if necessary in large dimensions ideal for a distressed mirror ceiling.
Based on UV printing, this production method thus makes it possible to completely control the effect obtained on the mirror by precisely defining the patterns to be reproduced from the print file. In addition, it has the advantage of producing stable effects over time and does not use any toxic substances for the environment.

How to enhance an interior decor with an distressed mirror ceiling?
We all remember the reflection of an old mirror, weathered and marked by time, giving the room where it is located an authentic and precious atmosphere. Undeniably, distressed mirrors have the charm of places steeped in history and reflect the splendor of ceremonial decors.
Spotted, speckled or marbled, the aging effects obtained on distressed mirrors can now be used advantageously for the scenography of an exhibition or a fashion show, but also to decorate the lobby of a hotel, a meeting room or restaurant in retro or classic chic style.
The mirrors made by Like Mirror being particularly light, they are generally used in custom-made mirror ceilings to sublimate the space of a public place and give it an old style. They also make it possible to produce interesting sets of reflections with decorative accessories such as chandeliers and to obtain new superimposed effects by playing with the patterns of the floor.
If you have an architectural or scenographic project featuring an distressed mirror, do not hesitate to contact us to find out more about the Like Mirror manufacturing process. We can help you design a totally original decor by integrating a custom-made antique mirror in the image of the place.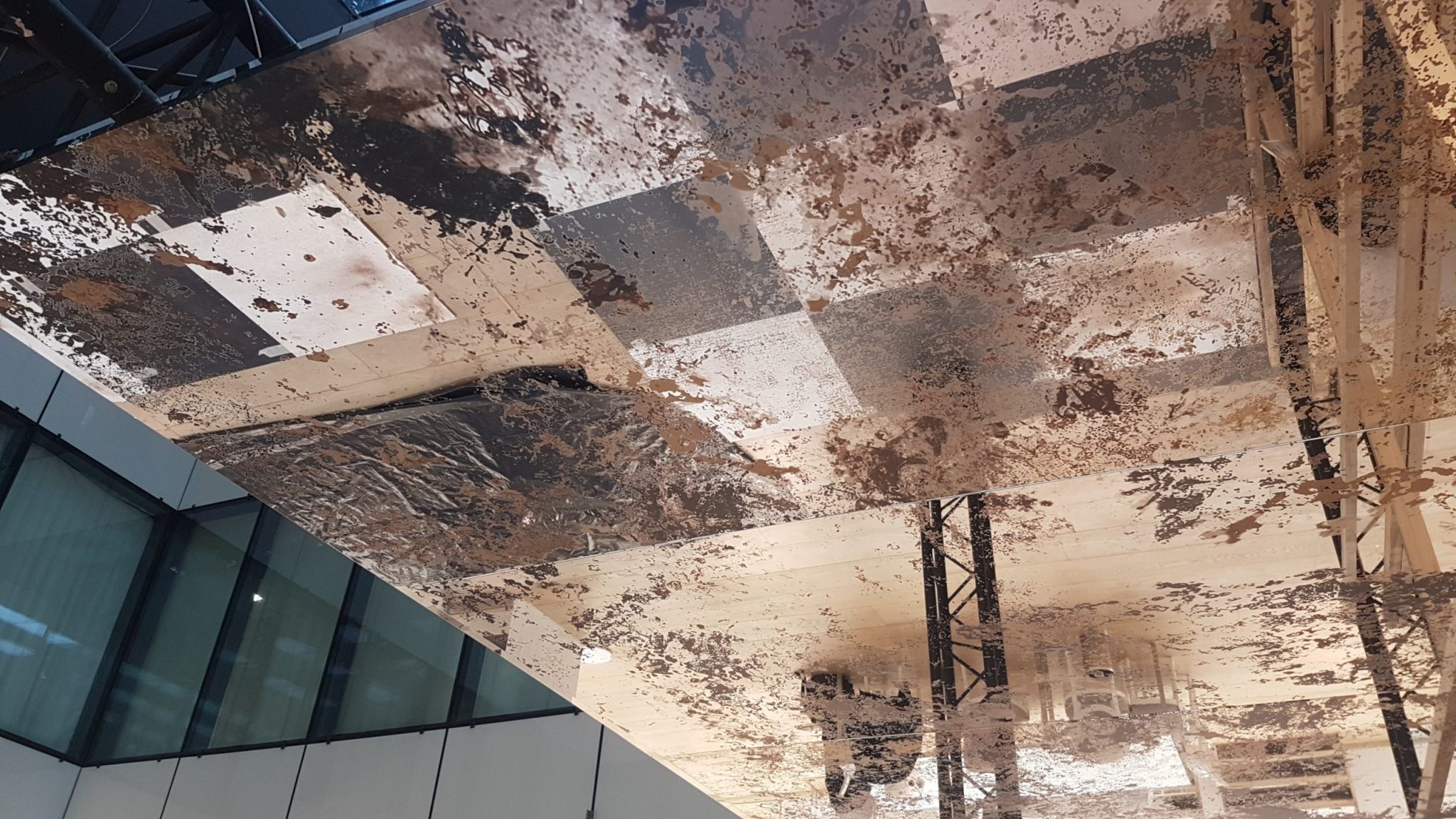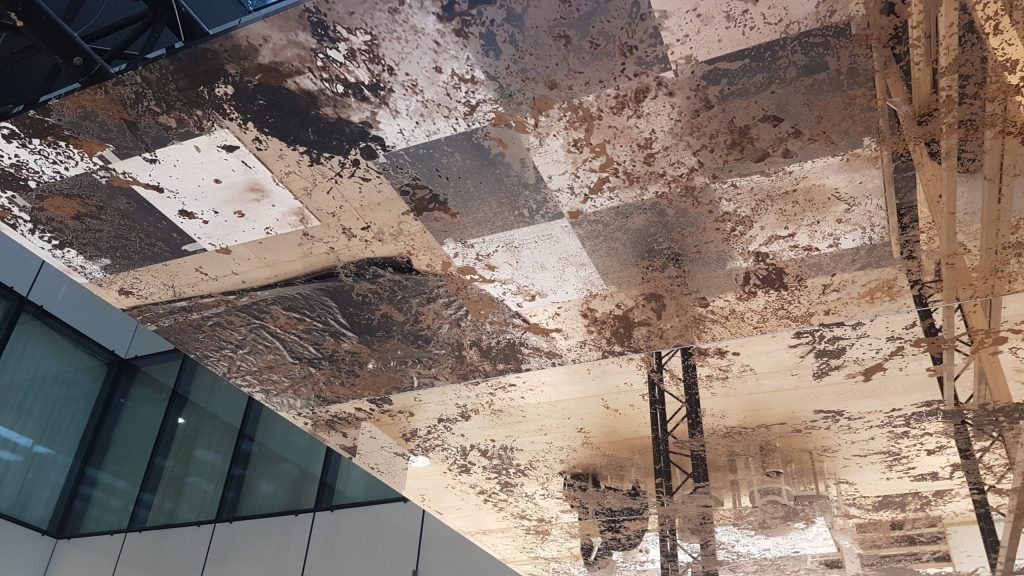 The modernity of ultra-light Like Mirror mirror panels combined with the charm of mirrors from the past
Mirrors have been around for thousands of years. Over time, the optical qualities of these have improved. Now, Like Mirror tensioned mirrors achieve an almost perfect reflection quality. The returned image is no longer altered or distorted. But doesn't this perfect reflection partially lose the magic of an object that reflects our image?
No more obsession with Narcissus or the discovery of Alice since we know our image by heart. The fidelity of the reflection has made it lose its magic.
The Like Mirror distressed stretch mirror aims to recreate this magic, both hypnotizing and subtle, by simulating the marks, stains and opacities created by the passage of time.
Rediscover your image in a more fascinating, slightly mysterious light, filtered by the marks of the past.
Like Mirror has decided to take you on a journey through time by making you discover the charm and appeal of old mirrors in the modernity of its ultra-light stretch mirror panels. Thanks to a printing process, our mirrors seem to have undergone the oxidation inherent to the effect of time. Discover the new collection of distressed mirrors Like Mirror with its four new mirrors: Versailles Dark, Versailles Light, Antique and Comet.
The result reveals abstract, colored or darker patterns that transcend the primary function of mirrors by transforming them into a decorative element to bring an interior to life.
The Like Mirror technology coupled with a search for aesthetics, imagination and artistic sense has made it possible to offer you this new form of stretch mirror Like Mirror.
Give free rein to your desires and exploit this new collection with wide possibilities of use in your projects!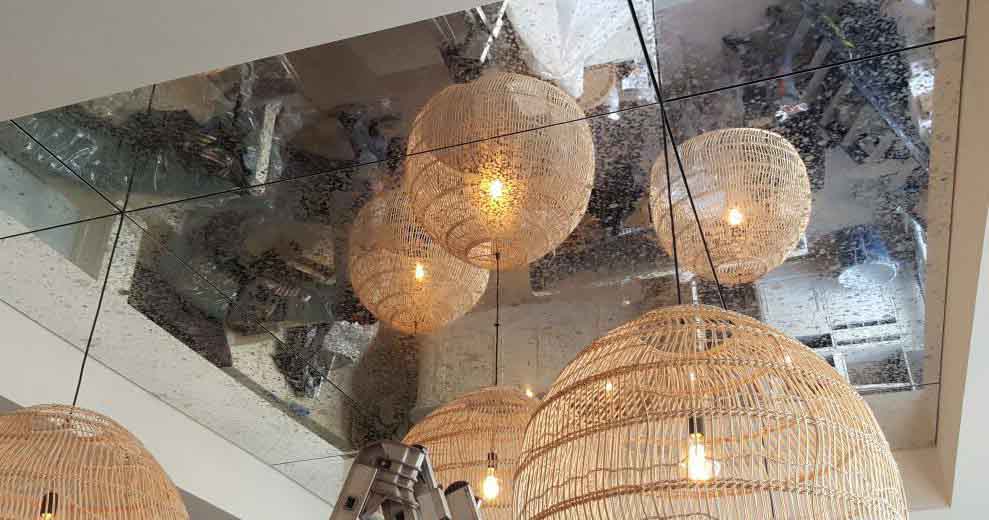 What applications for the distressed mirror?
Like Mirror distressed mirrors are the perfect match for current decoration trends. Favored by today's designers and home decor fans alike, they offer the benefits of a modern, lightweight Like Mirror and an antique look.
The patinated appearance of distressed Like Mirror Mirolege mirrors gives the room where it is displayed an authentic and precious atmosphere, it fills it with history and infuses it with its own personality.
During an exhibition, a parade or for the scenography of an event, these mirrors can bring a touch of aesthetics and a retro charm that can respond to the identity of a brand.
For the decoration of a prestigious room, a hotel lobby, a restaurant room, they can generate a chic atmosphere, match the historical weight of a place or create one for it.
Like Mirror distressed mirrors, like all Like Mirror mirrors, are ultra light, and can therefore be easily used as a custom-made distressed mirror ceiling to enhance a space and give it an atypical style. Combined with decorative accessories such as chandeliers, they can create sets of reflections, or interesting reflections with patterns on the ground.